The Bawnboy River flowing out of Brackley feeds Bellaboy Lake up to 75 acres and also joined to Lakefield Lake by a stream.
This water has Roach, Bream and Hybrids. Access is alongside the main road, with parking alongside the houses (p). This lake "performs well after it rains" from angler Pete who fishing it for 3 weeks in May every year.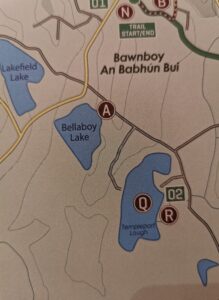 Templeport Lake has waters covering 100 acres. Roach, Bream, Hybrids & Pike can be caught here.
St Mogues Island (Q) which houses the ruins of his monastery is situated in the centre of the lake and is of historically interest.
Access the lake via St. Peters Church (R), over the style to the shore bank or keep left at the church carpark.
Boats can be launched from the boathouse and this is the best way if you are fishing for Pike.