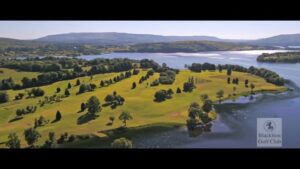 Black Lion Golf Club was founded in 1948 and designed by the legendry Eddie Hackett, located on the shores of Loch MacNean.
The lake comes into play on the 2nd 3rd and 5th holes. Blacklion with its excellent drainage makes it playable all year round.
Blacklion Golf Club is a beautiful 9hole parkland course established in 1962, with coppices of woodland and mature trees.
The lake comes into play on four holes and there are some magnificent views of Lough MacNean, its islands and surrounding hills. It has been described as one of the best maintained nine-hole courses in Ireland, and one of the most scenic.
Facilities include a clubhouse with trolley hire, chipping/putting practice area, changing rooms.